Stephanie is a 29 year old wife of 11 glorious years and the mother of 5 lovely children. Her passion for life and her love for adventure has inspired her to document life as she goes. This blog includes product reviews, cooking recipes, adventures they have taken and everything along the way. Enjoy!
Tuesday, February 08, 2011
This is a Sponsored post written by me on behalf of Hiltons of Branson. All opinions are 100% mine.
This Valentine's Day, why not create that once in a lifetime romantic experience with your partner? The Hilton Promenade at Branson Landing and Hilton Branson Convention Center Hotel are helping to make your special occasion even better. During your stay, you will be sure to enjoy;
*Early check-in & pre-registration upon request
*In-room sparkling wine (where permitted by law) or cider upon arrival
*Access to hotel health club, pool and whirlpool spa (where available)
*Full American breakfast for two in their room (where available) or in the hotel's designated restaurant. At airport locations, guests can exchange their breakfast for a lunch or dinner discount
*On stays beyond one night, buy one entrée and get a second one of equal or lesser value at no additional cost. (Choose from either lunch or dinner in designated restaurant)
*Late check-out available upon request
If I was fortunate enough to enjoy the Romance package provided by Hilton Promenade at Branson Landing and Hilton Branson Convention Center Hotel. I would take my husband, of course. I would treat it as our honeymoon(away) that we should have taken and all that we have accomplished in those last 6 years.
My favorite part of the Romance package would be the one on one time with my husband. To rekindle that flame and to build upon our future. To take the time to enjoy each other. To enjoy the moment and our life together. It would be wonderful.
The 5 course meal at Level 2 Steakhouse is also quite intriguing! I would love the main course, aside from the foie gras. I've never had it and personally, duck or goose liver is very unappealing. Other than that it sounds divine! I also love the idea of having lemon sorbet and pomegranate infused champagne in between the appetizer and the entre.  It would add a little palate cleansing, lite-ness and freshness to the meal.
So my question to you, is;
If you could enjoy (or are going to enjoy) the romance package, who would you take and what would you look forward to?
Saturday, February 05, 2011
This is a Sponsored post written by me on behalf of PhotoFlashDrive by Pexagon Technology. All opinions are 100% mine.
Photoflashdrive.com is a great little company that carries flash drives for photographers from amateurs to professionals. They proudly offer 25% OFF, every single day, for photographers, on their personalized USB flash drives, portable hard drives and other great custom products. Photoflashdrive.com simply has something for everyone. They have so many products to choose from it's unbelievable, and many, if not all, are completely customizable. Many of these products would be great for gifts, as well! Simply upload your friends or family members name and information and give them a gift that they would love. Upload the pictures onto the flash drive and they'll always have something to look back on and cherish. Who wouldn't want that?
Photoflashdrive.com is a division of Pexagon Technology and photographers across the country are using Pexagon personalized photography flash drives and hard drives because they're proud that they're MADE IN THE USA. What do I mean 'personalized'? You can engrave a logo on the front and up to 2 lines of text on the back. You can load dozens, hundreds or even thousands of high-resolution images onto a device that has been branded with your studio logo, your name or personalized for your customer.
You can choose from multiple styles, products and colors to make each and every one you do truly original. Your customers will remember you and get your name out there! Stylish, professional packaging solutions are also available!
Thursday, February 03, 2011
Welcome to the 39th edition of Hop Along Friday, hosted by My New Life As Mom, Chubby Cheeks Thinks, This Adventure Our Life, Belly Charms and
Living On Love & Cents
!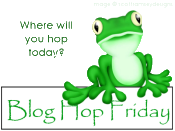 Please feel free to follow through and link up to facebook and twitter accounts as well
once you get on someone's page, but please only link your blog up, here. As always, we continue to invite you and your friends to link up every Friday and join us for a wonderful
blog hopping adventure! We're all about making friends and having fun so come join us!
You can still be rewarded for participating! Each week we will use random.org to pick a
"featured blog" of the week from the previous weeks link ups! Want your blog featured? Then you have to link up! Here's how you can join in on the fun;
Link up to your blog using our inlinkz link list, below.

Follow the host/hostesses located in the first 5 slots.

Follow any other blogs that you feel appropriate! :)

If you get a new follower, please feel free to reciprocate the love!
We understand that not everyone has time to follow and comment on every Hop Along Friday Participant, just do what you can and are willing to do. We will do the same! Take your time and go at your own pace. FYI, however, if you follow me and leave a comment, guaranteed, I will follow you back!
The link list is only open to add new blogs on Fridays but will be visible all week long.
This weeks featured blog is #82 from last week!
Tuesday, February 01, 2011
With the holidays just behind us and those extra pounds around our waists, I'm sure loosing those holiday inches and becoming healthier is part of all of our goals. With Yoplait Smoothies incorporated into your diet, it's a great way to be healthier and start you off on the right track to loosing a few of those extra pounds.
Each package of Yoplait Frozen Smoothies contains one full serving of fruit (1/2 cup) and 110 to 120 calories per serving. Not only does Yoplait yogurt contain live and active cultures, but when prepared with skim milk and made according to package directions, Yoplait Frozen Smoothies are a good source of calcium. So raise your smoothie glass and toast to a new you!
You can find Yoplait Smoothie packs in the freezer section of your local grocer. They come in four delicious flavors so you can mix it up and have some for dessert and some for a snack. Also make sure you follow Yoplait on facebook for a great coupon on your next bag of Yoplait Smoothies.
My two favorites are Strawberry Banana and Strawberry Mango Pineapple. They're both delicious and so great. They're completely easy to use and completely delicious! Just place your Yoplait Smoothies in the blender, add milk and blend! Easy as that! They're a great snack on warm days or a great dessert at night. You don't have to feel guilty having a delicious dessert when you're indulging in a Yoplait Smoothie. You're taking care of yourself and enjoying yourself at the same time. How could it get better than that?
I would like to send a special thank you to Yoplait and MyBlogSpark for teaming up with me to bring this great giveaway to my readers. I would also like to thank them for sending me the gift basket for review purposes.
The gift pack includes the following items:
* a VIP coupon to try yoplait smoothies
* a drawstring backpack
* a waterbottle
* a fitness journal
If you would like to win a Yoplait Smothies gift pack, simply friend Yoplait on facebook and come back here and let me know you did. One winner will be chosen via a random number generator and will be notified via email. The winner will have 24 hours to claim their prize, failure to do so will result in a forfeit and an alternate winner will be chosen. This giveaway is open to US and Canadian residents 18 year of age and older. The contest will close on March 1st, 2011.
Twin Sisters Productions has been in operation for 23 years and their goal is to bring quality educational and inspirational music to kids, families and those around children.
We've teamed up with Twin Sisters Productions just in time to bring you a great Easter gift.
Five Little Bunnies Die Cut Board Book & CD Set
First I have to say that Jeffrey absolutely loves this book. He has a ton of bunny books and I do think they are his favorite. When we were pregnant with Jeffrey his first nickname was Thumper as his heart reminded his daddy of Thumper tapping his foot. Thus, the name was born.
Jeffrey loves that he can turn the pages on his own and 'read' it to himself. As soon as I showed him the book, he jumped off the recliner to get on the floor to read. He loves to lay in front of our windows reading, where the sun shines in. That is when we're lucky enough to have some sunshine.
One of the things we love best about this book is the fact that it comes with a CD that is great for kids. It plays for over 32 minutes and has 19 songs to listen to. We love that this book doesn't cost very much, especially when you're getting a CD, as well. This book retails for $9.99 and if you ask me... it's GREAT. If my son can sit and read it over and over without boredom, it's well worth the price.
If you would like to purchase this book or any other products from Twin Sisters Productions, please feel free to use the promo code "FIVEBUNNY" at checkout for 30% off your order. This promo code is good through March 31, 2011.