Stephanie is a 29 year old wife of 11 glorious years and the mother of 5 lovely children. Her passion for life and her love for adventure has inspired her to document life as she goes. This blog includes product reviews, cooking recipes, adventures they have taken and everything along the way. Enjoy!
Thursday, February 10, 2011
Hop Along Friday
Welcome to the 39th edition of Hop Along Friday, hosted by My New Life As Mom, Chubby Cheeks Thinks, This Adventure Our  Life,    Belly Charms and
Living On Love & Cents
!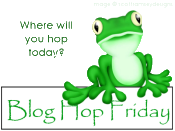 Please              feel free to follow through and link up to facebook and     twitter        accounts   as well
           once    you get on someone's page, but     please  only     link              your blog      up, here. As always, we      continue     to       invite   you      and    your      friends  to  link up every    Friday    and             join   us for a        wonderful
blog  hopping adventure! We're all about making     friends and having fun so  come join us!
You         can   still be rewarded for participating! Each week we will use         random.org  to  pick a
"featured                 blog" of the week from the   previous        weeks link     ups!          Want      your blog featured? Then you have   to link    up!             Here's    how  you     can   join in on     the fun;
Link up to your blog using our inlinkz link list, below.

Follow the host/hostesses located in the first 5 slots.

Follow any other blogs that you feel appropriate! :)

If you get a new follower, please feel free to reciprocate the love!
We                          understand that not everyone has time to follow     and        comment    on           every  Hop    Along Friday     Participant,   just  do     what you    can  and   are        willing      to       do.  We   will  do   the   same!  Take   your  time   and go      at     your   own    pace.  FYI,          however,  if you   follow    me    and  leave a        comment,        guaranteed,  I will        follow      you  back!
The link list is only open to add new blogs on Fridays but will be     visible all week long.